leobrat
pretty much demanded I create an entire post for this, so here goes. I got floor tickets to see Taylor Swift at Cowboys Stadium last weekend, October 8. Simply put, it was
amazing.
Getting to Cowboys Stadium in Arlington was the easy part. We parked like, three miles away and took a shuttle to the stadium, which I'd never been to before. It's the largest indoor stadium in the world, and it's crazy impressive. It has the largest video board in the NFL, and yes, they use it for the concerts, too. Here in Dallas, we have a love/hate relationship with Jerry Jones (the owner/GM of the Dallas Cowboys), and we call the stadium Jerry World, so if I refer to it as that in this post, that's why. We had to get special neon yellow wristbands if we had the floor seats, which was a big deal to me because we've only ever had the cheap seats to any concert I've ever been to at a venue like this. I bought one of the purple "Speak Now" wristbands and a swirled margarita, but I didn't buy anything else because the merch lines were
crazy
long and I didn't feel like standing in them for half an hour.
We got there really early because we were paranoid about the traffic (the concert and Game 1 of the ALCS in neighboring venues at the same time, craziness), so I had plenty of time to kill. Instead of the merch lines, I went and explored the floor. I took a ton of pictures of the Ring of Honor, which (for those that don't know) is a circle running around the stadium just under the press boxes of legendary Cowboys players' names and jersey numbers. It's a big deal in our football culture here. Then I also started taking pictures of the stages and such.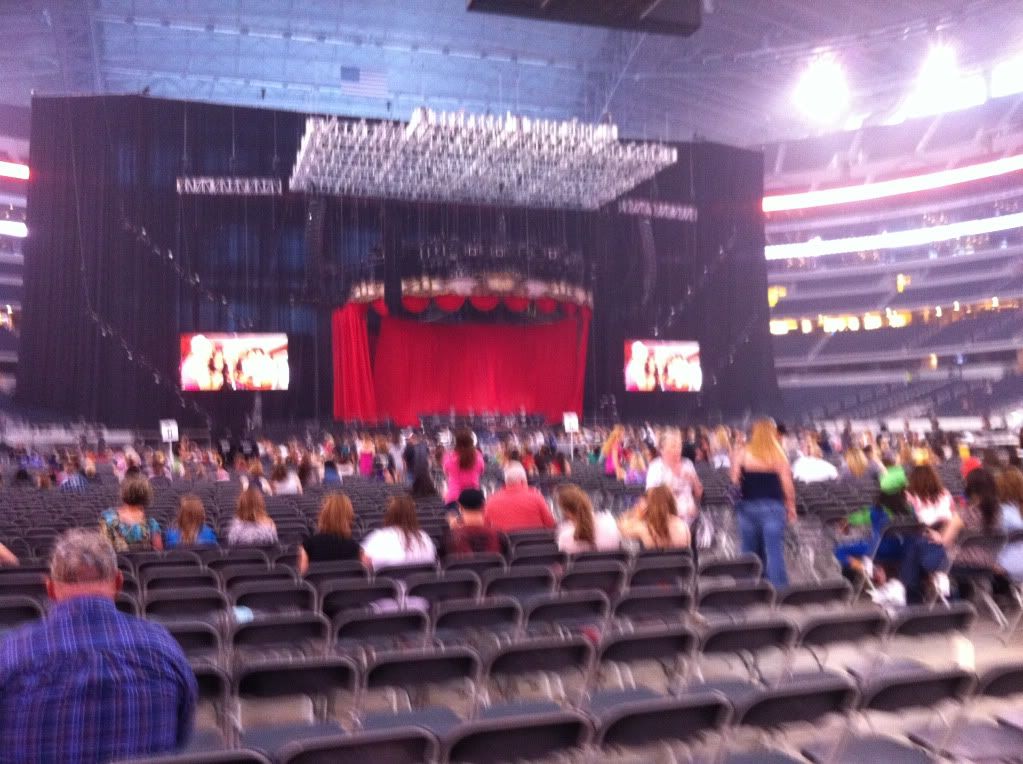 This was our view of the main stage from our seats, not zoomed in. Sorry it's blurry, that was with an iPhone camera. I went over to the acoustic stage just to take pictures, and a girl about my age asked if I wanted her to take a picture of it with me in it. Sure! I actually kinda love how it turned out.
I love pictures like this, even though they don't really have anything "special" about them. I think it's hysterical that she's got a pink sparkly guitar case. I'd bet anything that's the one that she carries her sparkle guitar in. I also love her Koi guitar, and seeing her instruments up close and in person (even the ukulele) is just way cool.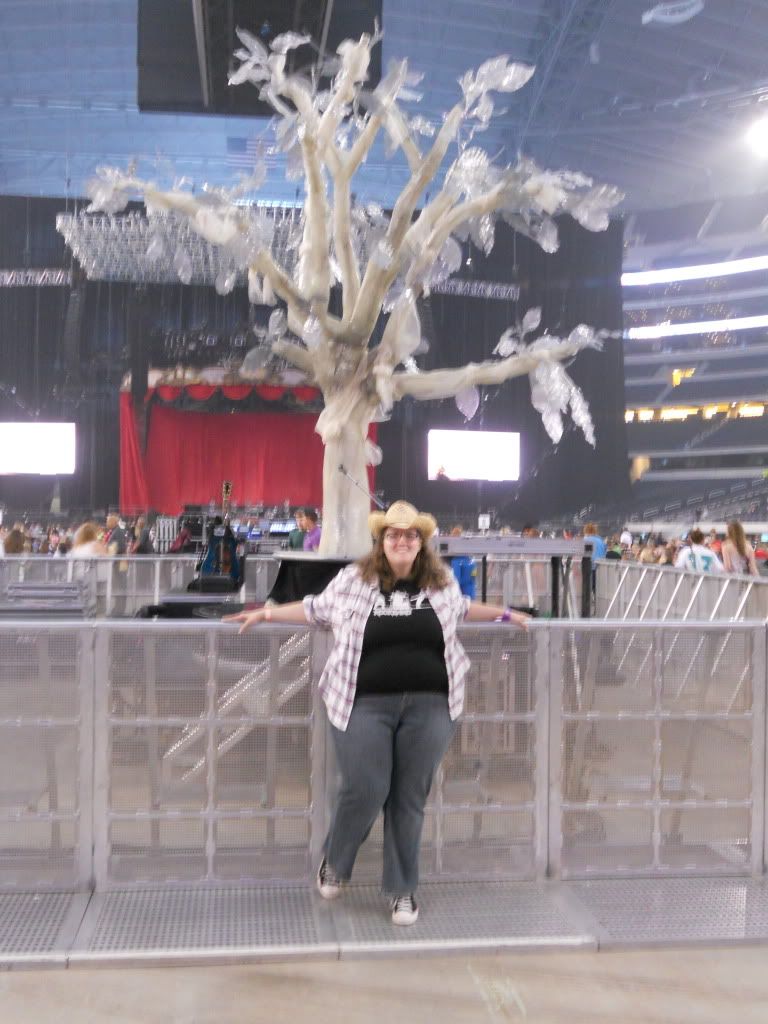 I took multiple pictures of the acoustic stage with the tree, just because it was beautiful and fascinating and because I could. This is what happens when the broke kid gets decent seats for the first time.
Once I finally got back to my seat, me and my sorority sister Tamee took a few crazy pics together. I'll spare you all but one. I'm the one with the curly hair and the hat. We also met two different sets of girlfriends who were older than us (Tamee and I are 27 and 26 respectively) at the concert sans kids. It was a gloriously freeing feeling. We saw all kinds of crazy stuff with everyone trying to get into the T-Party. There was a pair of girls dressed as dragons holding signs saying, "I had the time of my life fighting dragons with you;" there was a group of three friends dressed as Mario, Luigi, and Princess Peach (and what this has to do with TSwift, I haven't a clue). I didn't take pics because I didn't want to waste my storage space and battery.
There were a couple of opening acts that has a fifteen minute set each, and despite the numerous times they mentioned their names, I still can't remember their names. I wasn't really impressed with their music all that much, either. Then Needtobreathe had a thirty to forty-five minute set, and they were impressive. I love their style, and though I was quite surprised when she chose them as her opening act, I have to say I'm really glad that she did.
I love this song, even though it's been played a bit too much on radio. I wanted it on video because my chances of ever getting to see Needtobreathe in concert again? Probably none. I told Tamee that I was going to make my way over to the acoustic stage when she made her way there, but I noticed that people were already piling up there, so during the second song of Needtobreathe's set I went on and set up there. I was ten feet away from the barrier around it, and I ended up being only about fifteen feet away from Taylor herself when she finally got there. But more about that later...
So finally, Taylor comes out, and opens the show with "Sparks Fly." The crowd went absolutely wild, just like in the song, and next time I
will
remember my earplugs! At one point during the cheering, she took her earpieces out to hear the crowd, and you could see her murmuring "wow" over and over again. When she says that she's been looking forward to our show and that she's so happy to see us, most critics will say that her wide-eyed wonder is overdone because she's at that level of fame now. However, in Tamee's words, "yeah, I know she probably says that at every show, but you can look at her face and can tell that she actually means it every time she does. She's so expressive and genuine."
I loved Taylor's intro. She basically said, "hi, I'm Taylor," and then went into her spiel that I talked about above. It reminded me so much of Johnny Cash that it just made me grin. But then she began to talk about the show: "Something you should know about me is that I love stories. Every one of you has a story, and I love to hear other people's stories. Is it okay if tonight, I share some of mine with you?" Omigod, can I be your best friend, please? That's pretty much my philosophy to life, right there.
I didn't record every song, nor do I even remember them all; I was too busy trying to take it all in. I remember her doing "Mean" and "Our Song," then "Back to December" with a bit of OneRepublic's "Apologize" woven into it.
It's a crappy iPhone video, but "Our Song" is one of my top 3 Taylor songs, hence I filmed it. Anyone know why I couldn't make it zoom in like you can on the iPhone 4 pictures? She did "Mine" and "Speak Now," which was crazy funny and I wish I'd gotten on video because Liz as Bridezilla is too hysterical for words. She also sang "The Story of Us, and then, my first wish of the night came true and she performed "Better Than Revenge" and of course, I got that on video.
The performance is a bit melodramatic, but it's hysterically funny and
so
Taylor. I cut it off a bit early, but at the end, Taylor prances offstage and her guitar player Grant proceeds to tear it up in a freestyle rift off of the song. Basically it was stall time so that Taylor could do a costume change and make her way to the acoustic stage, but since I like to watch hot boys playing guitar, it wasn't exactly a hardship, if you know what I mean. ;D
So then Taylor made her way to the acoustic stage. The crowd standing around the tree went a bit crazy when they saw two roadies come out and start adjusting microphones and such, and then Taylor took quite a while to make her way out there, since she stopped to greet fans as she did. When she finally got there, that's when I noticed that the tree lights up and moves. It popped up and started slowly revolving as she sat down and started to play.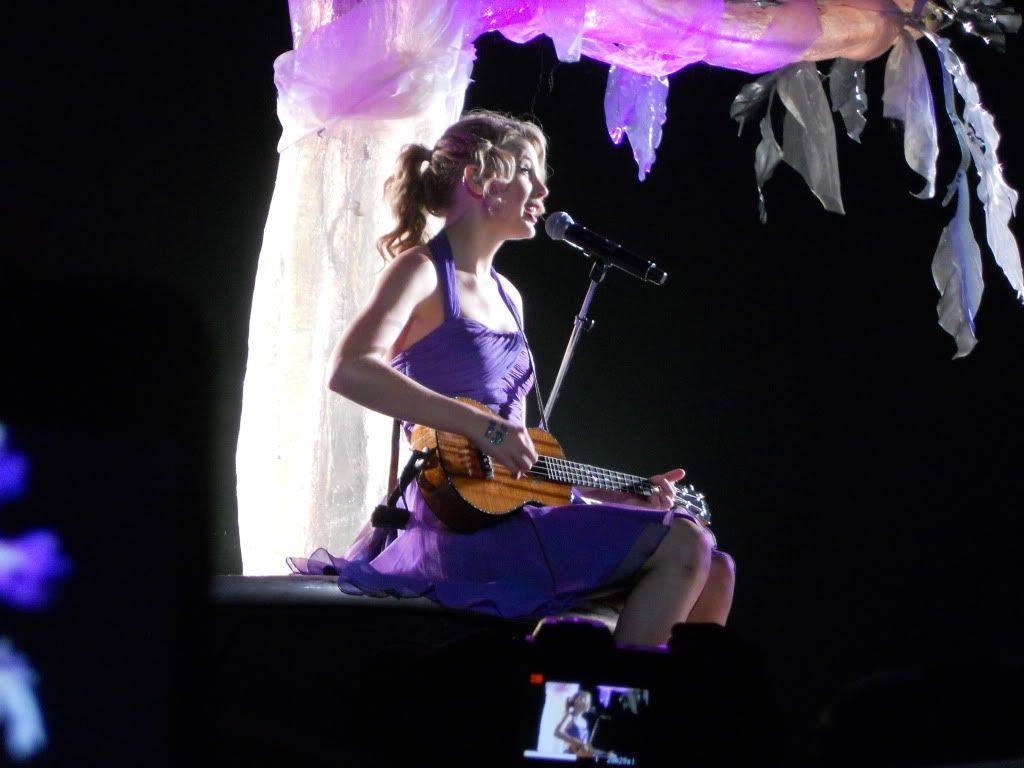 She started with the "Fearless" hybrid into Jason Mraz's "I'm Yours" on her ukulele, and I loved the performance even though I've seen it on video before.
I started to test my shot lineups with a couple video clips, and got snippets of songs, including this one. I'm not a fan of "Last First Kiss," but I kept it because it's my only video of her with the Koi guitar, which I kinda have a soft spot for.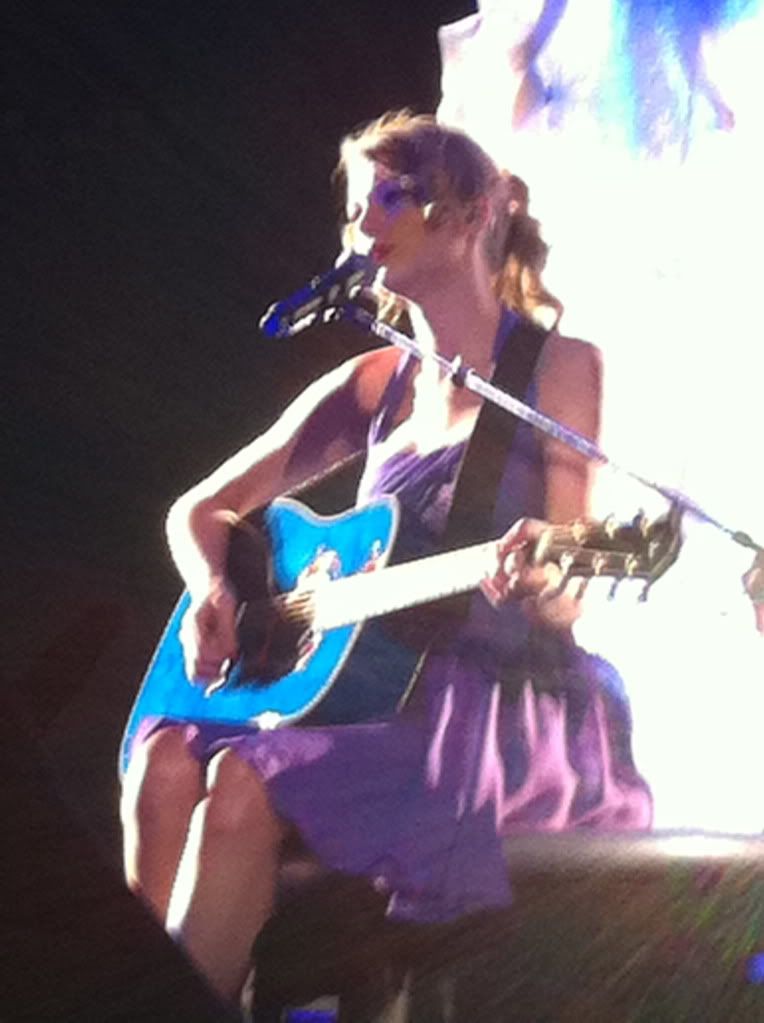 As evidenced by the pics I got of her playing it...
Then the cover of the night...I have no idea what the intro was that she gave, I didn't get to hear much of it besides her saying Don Henley's name. She usually covers a song from an artist that lives and/or is from the city she's in. I was anxious to see what it'd be...and I was insanely surprised and happy.
I only got part of this because I was having camera trouble. I fell in love with The Ataris' version of "Boys of Summer" back in college, so I was way excited. Plus, her lyric running down her arm that night was this lyric from the song: "a little voice inside my head said don't look back, you can never look back." I loved it because I felt like this was in direct response to the people who were hoping that one or all of the Jonas Brothers would be special guests at the concert because they live here. I'll comment more on my thoughts on that later, if you really want.
After "Boys of Summer," Taylor sang "You Belong With Me" and began making her way back up to the main stage, and I made my way back to my seat. She sang "Haunted" once she got back up there, and I dunno, the whole thing with the bell is just strange to me. I love the song and the chaotic feel to it, but she's definitely got too much physicality and drama going on in that performance. Then she did "Enchanted," with the lit up trees and ballet dancers and wow, it was a beautiful setup. I love the ballet dancers giving a calm, graceful elegance to the lyrics and not to mention how much I just love the song in general.
Then she sang "Dear John," which I had been anxious to see live because of its history and subject matter. At the end, to coincide with the lyric "like fireworks over your sad empty town," there was a pyrotechnic setup on each end of the stage that popped off fireworks. It was quite impressive. Her facial expressions showed a normal amount of sadness, unlike the gut-wrenching pain evident in the first few times she sang this song live, until the very end. As she sang the lyric "you should've known," her face turned into the hardest, fiercest angry look I've ever seen from her. Tamee turned to me and was all, "whoa, don't piss her off," and I was equally shocked. We have since nicknamed this the "Taylor Swift will fuck your shit up" look.
After that, she started up a song I didn't immediately recognize, until she started to sing the opening of "Airplanes," a song I love more than considered healthy. She then introduced B.o.B. as her special guest, and the two of them performed "Airplanes" together: him doing his normal lyrics and her singing Hayley Williams' parts.
I personally think she did really good; not as good as Hayley, but then again, not many people are. Next, she did "Long Live" and introduced each of her band members to raucous cheers. This was the fake last song, so that they could go out and come back for the "encore." I have issues with that, obviously, but anyway. She then was sitting on a couch with her guitar and the band sitting/standing around her, during which she proceeded to make my life and sing "Ours."
I only got the first part of it because my camera was absolutely
dead
by that point, and it took everything I had to just get that. She then sang "Fifteen," and she didn't have the same pain-stricken face that I saw during her last Dallas concert (which is a good thing, time really does heal everything).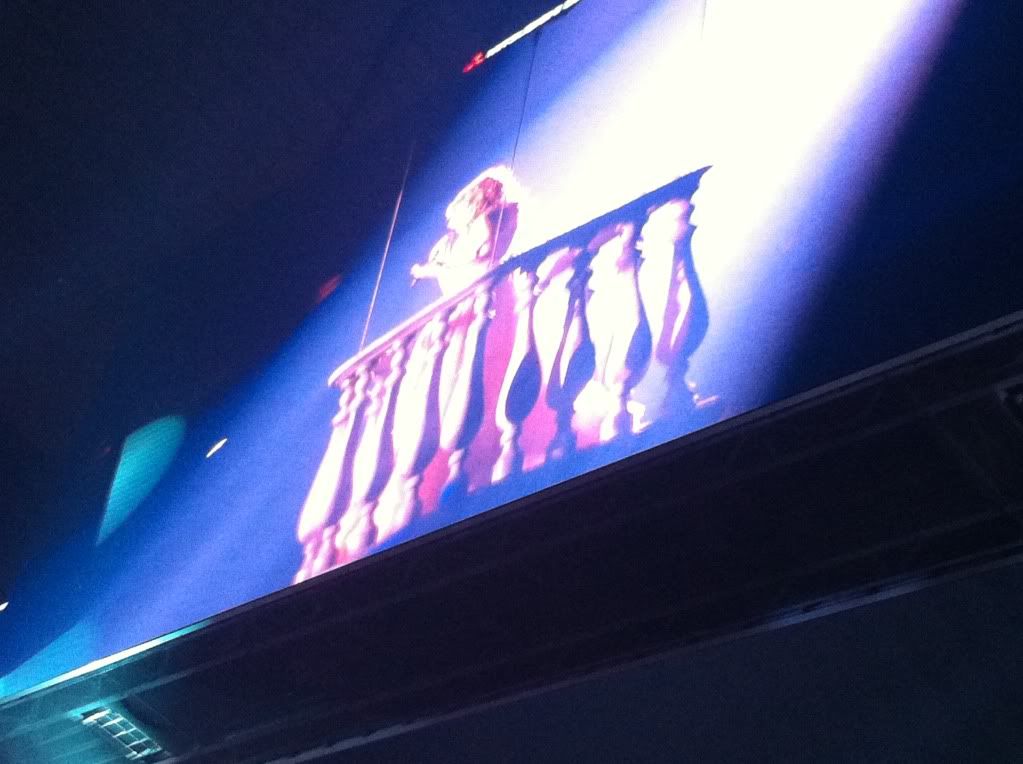 Her final song of the night was "Love Story," big shocker there. She was in the flying balcony thing, which looks really cool, but I'm so over that song, and then we were on our way out trying to get to the car. That was a long drawn-out deal in itself, and I swear, I will never again go to Cowboys Stadium unless either I can get dropped off and picked up or Arlington finally bucks up and gets public transit. I'm still having nightmares.
Sorry it took forever to get this posted; it took a week to find my camera cord. Now I can go back to searching for jobs and watching football...while being utterly appreciative of anyone who makes posts like this on a regular basis. Props to you!
So
Current Location:

home

Current Mood:

enthralled

Current Music:

"Enchanted," Taylor Swift